Fort Worth, TX Daycare
6200 Bryant Irvin Road, Fort Worth, TX 76132
Welcome to The Children's Courtyard of Fort Worth, TX
Thank you for visiting The Children's Courtyard educational daycare on Bryant Irvin in Fort Worth, TX. My name is Jody and I am the Director. I have 13 years of experience and have earned a variety of certifications in early childhood education. Over the span of my career, I have played the role of teacher, parent and administrator.
Our school offers
infant child care
,
preschool programs
,
private Kindergarten
, and is nationally-accredited by NAC (National Accreditation Commission for Early Care and Education Programs). We received this award in June 2011 and continue to meet these accreditation standards in each of our classrooms. The level of care and education we provide exceeds both the State of Texas' Childcare Licensing Standards and the NAC's accreditation standards.
I manage my school with the philosophy that every child, parent, and staff member is an extension of my own family. My staff and I strive to create a warm and welcoming environment as we work to build relationships with the families who entrust their child to our care in the Fort Worth, TX community.
We believe this partnership between staff and families will help build the foundation of learning and confidence to succeed in every child who experiences our educational daycare program.
Stop by or call today to schedule a visit of our Children's Courtyard early childhood learning center in Fort Worth, TX. We'd love to have your family join our family!
We are accredited by
Our school is accredited by NAC (National Accreditation Commission for Early Care and Education Programs). Our staff and our curriculum have demonstrated that they are consistent with established "best practices" in the social, emotional, physical, language and cognitive development of children.
A Day In The Life Of Our Students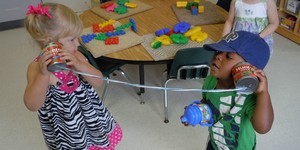 Learn more about how The Children's Courtyard inspires inquisitiveness and love of learning in every child through individualized care and active learning opportunities. All in a safe, warm and inviting environment.