Fort Worth, TX Daycare
901 E. Harmon, Fort Worth, TX 76131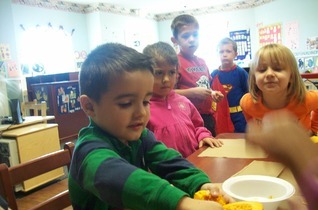 A Typical Day For A Child
On a typical day, your family will be welcomed into our building by friendly management staff and teachers. Sometimes you may even see our cook, whom we lovingly refer to as "Grandma," passing out breakfast and greeting our families in the morning.

You will be able to take your child directly into his or her early morning classroom, where the teacher will fill you in on any important information. After signing your child in and saying goodbye, your child will be able to engage in hands-on activities or eat breakfast.

At approximately 8:30, we begin Circle Time, where we plan what we will be learning about that day. We'll have fun learning and sharing about various language arts, science, mathematical, and social concepts as a large group. Sometimes we spend some time singing songs and getting our wiggles out during Large-Group Time, as well.

Then, we will split up into our learning centers for active learning activities such as practicing writing our names in shaving cream at the writing center, learning what sinks versus what floats at the water table, or exploring the life cycle of a butterfly at the science center. Together with our friends and teachers we find meaning in these activities.

Later, one teacher will guide a smaller group of children in a science project or art activity while the other group goes outside, then we will switch. Afterwards, we will do another Circle Time before lunch to review what we've learned!