Austin, TX Daycare
12336 North Mopac Expressway, Austin, TX 78758
Welcome to The Children's Courtyard of Austin, TX
Thank you for visiting The Children's Courtyard educational daycare in Austin, TX. My name is Dorcas Carter and I am the Campus Director. I have a bachelor's degree in education and a master's in education with a focus in family and community studies.
We take great pride in offering a diverse program that is holistic in meeting your child's needs. We are not just another neighborhood child care center. We offer
infant care
,
preschool programs
, and even
private kindergarten
. Our lesson plans are designed to support your child's development in all areas, including social, emotional, and intellectual. Pre-Kindergarten students explore the nationally recognized Frogstreet Curriculum;
our preschool
students engage daily in the Doors to Discovery Curriculum; and our
infant
to 2 year olds experience hands-on learning through our High-Scope learning model. We know children learn best when they are actively involved in the learning process, so our curricula draw children in and make learning active and fun.
Our teachers are highly trained educators who build relationships with each family at our school in Austin, TX. Our veteran teaching staff have over 170 years of experience. Our teachers partner with each child to cultivate a love of learning and kindness within their classroom community. These are just a few of the ways we ensure your "whole" child will be prepared for the next educational level and will have the tools needed for future success.
Since our school opened in 2000, we have provided a warm and welcoming learning environment that involves families in their child's learning experience. From weekly emails to social gatherings, our strong family bond can be felt from your first day of enrollment. We remain committed to providing your family the best education.
Call today to schedule a tour of our fantastic Children's Courtyard educational child care facility in Austin, TX. We look forward to meeting your family, and introducing you to ours!
A Day In The Life Of Our Students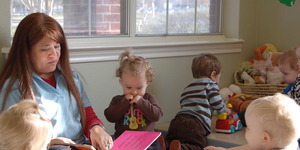 Learn more about how The Children's Courtyard inspires inquisitiveness and love of learning in every child through individualized care and active learning opportunities. All in a safe, warm and inviting environment.