Austin, TX Daycare
11012 Harris Branch Parkway, Austin, TX 78754
Welcome to The Children's Courtyard - Harris Branch!
Welcome to The Children's Courtyard educational daycare in Austin, TX, where we teach children through hands-on experiences. My name is Taylor and I am the Campus Director at this wonderful school. I graduated from Texas Tech University with a degree in human development and family studies. My background is all about children. I spent almost five years working for the Department of Family and Protective Services. I worked in the Department of Child Care Licensing, where I regulated and investigated daycare facilities in the state of Texas. I also have been an Academy Director for La Petite in San Antonio, Texas and La Petite in Pflugerville.
When we opened in 1997, we became the first The Children's Courtyard
private preschool
in Austin. We have been providing our community with the highest quality early childhood educational
preschool
ever since. Our loving
infant child care
and superior
preschool programs
provide the perfect foundation for learning and child development.
I am confident we offer the best program in the area because of our dedicated staff. We have an exceptional group of teachers who are enthusiastic, attentive and caring, and committed to providing an active learning environment that allows children to explore and discover. We provide ongoing teacher training throughout the year, including CPR and first aid training. We also have a licensed kitchen manager who prepares nutritional meals approved by the Child and Adult Care Federal Food Program.
Our facility includes spacious classrooms and playgrounds for each age group, two indoor playrooms and a lactation room for nursing mothers. We remain committed to providing your family the best educational experience possible.
Call us today to schedule a tour and see firsthand how our The Children's Courtyard educational daycare in Austin, TX is the perfect fit for your child!
A Day In The Life Of Our Students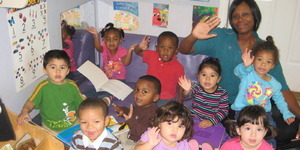 Learn more about how The Children's Courtyard inspires inquisitiveness and love of learning in every child through individualized care and active learning opportunities. All in a safe, warm and inviting environment.